RETURN FOR RUSS FRANTZ DISAPPOINTING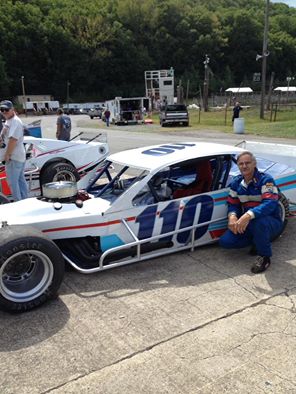 (9/12/16)- It had been seven years since three time Evergreen Modified Champion Russ Frantz last drove a racecar, but the excitement level was high for the driver, team and fans to have him back in a car. Unfortunately, things did not work out so well.
Russ went out for the first round of practice at Evergreen Raceway with the intention of seating in the brakes and slowly bringing son Paul's car up to speed. Just after a lap, the transmission blew apart. The track crew pushed the car to the pits, and the team surveyed the damage. The entire back half of the transmission was gone.
The team was dejected, but started talking about finding parts to put the car back together. Long time friend and fellow competitor John Markovic loaned a drive shaft, and track promoter Jason Makarewicz went home and got a transmission. "We were talking about loading up. Thankfully, Kevin Graver, Jr. said to see if we can find parts. Dad wasn't sure, but we talked him into it. I could see he was bummed, but Dene, Kevin and I were willing to do whatever it took to get him back out there. I can't thank John and Jason enough. Jason went above and beyond the call of a track promoter today. I think this says a lot about his commitment to this track and the drivers"; Paul Frantz stated.
The team worked quickly, and they were even able to get the car together for the heat race. Russ started last and just wanted to feel the car out. He said after the heat:"The trans wouldn't stay in high gear at first. I had to hold it in with one hand for the first few laps, then it stayed."
Once again, the crew went to looking things over trying to find the problem but were unsuccessful.
Russ would start the CarrCrete/Associated Chiropractic #110 from the twentieth starting spot. He quickly moved to nineteenth and was looking for more when the car started coming out of gear again. He was forced to pull off the track after ten laps.
"It was tough trying to drive with one hand on the wheel and the other holding the trans in high gear. I did what I wanted to do. I shook the car down for Paul to run the King of the Green race in October. I hoped for a better day, but that's how it goes sometimes. You can't do much when you have a mechanical failure"; a dejected Frantz said after the race.
Paul Frantz and the team are very thankful to all the sponsors who helped get the car to the track, as well as being so understanding for how long it took to get the car out. "My sponsors are great. I can't do this without any of them. I also have to thank Dad's retired car owner Wilson Winter for buying tires. I just wish Dad could have gotten to use them. I'm trying to talk him into running the King of the Green race. We'll have to see what happens.
"I also can't thank everyone who loaned us parts, offered us parts, and just came to help us get the car back out. It shows how much people loved watching him race, and wanted to see him do it again in that 110"; Paul stated.
Next up for the Frantz Racing team is the King of the Green race at Evergreen. The race will be a 100 Laps Sunday October 16th.
Tough Day for Frantz at Evergreen Raceway
.
(4/24/16)- Paul Frantz was behind the wheel of a racecar for the first time since his horrific crash last August. However, it wasn't in his modified.
Paul went back to his roots racing the Bob Wink #21 Factory Stock at Evergreen Raceway. "I can't thank Bob Wink enough for allowing me to drive his racecar. I've always loved the Factory Stock division, and this is a great opportunity": Paul said.
Paul went out for the first round of practice and was running well until the car shut off. Paul and his crew members went to work trying to find out the problem. They found a stuck needle in the carburetor. They changed that and Paul was able to get on track just in time for the second round of practice. Unfortunately, the car did the same thing.
Thanks to the help of Street Stock racer Dan Pawlicki, Paul changed carburetors in hopes of fixing the problem. Again, the car shut off when Paul tried to run some practice laps. The team went to work trying to find the problem. Just before the feature was about to start, the team changed the ignition module and removed the tachometer wire.
Paul pulled onto the track and was lining up with the field when he noticed he had no brakes. Determined to at least see if the car would run, Paul took the green flag. The car ran well, but Paul was unable to race the car to it's full potential due to the lack of brakes. Paul ran all twenty laps and finished sixth of the seven cars.
Paul said;"What a day. I thought we had a car that could have won. We just had a few unexpected issues. At least we got the car to run, now we need to get it to stop. I couldn't slow the car down so I had to lift really early to get into the corner. I have to thank everybody that helped me today, Joe Berrocal ,as always, Pappy Herman, Uphold Racing, Dan Pawlicki, and my sponsors for allowing me to run this car."
FRANTZ GOING "HOME" FOR 2016


(3/15/16) Paul Frantz and the Frantz Racing Team are "Heading Home" for 2016. Evergreen Raceway is re-opening under new management, and that's where Paul Frantz is headed.
"Evergreen has always been my home track. It was upsetting when it closed in the middle of 2014. When I heard it was opening back up for this year, I got really excited about racing again": Frantz said.
The team is looking for a bounce back year. "2015 was the worst season of my career. My car was torn up more last year than all the years I was racing combined. The big one was the wreck in August that bent the frame really bad": Frantz stated.
Paul and his team are in the process of putting the car back together. Paul said:"Zane Zeiner put a front clip on it for us. Now it's a matter of paint and reassembly."
Paul will be entering the seven race Modified series at Evergreen, as well as returning to his roots. He will be driving a Factory Stock for fellow competitor Bob Wink on a part time basis, and possibly a few Street Stock races as well.
"I'm really excited to get back into a Factory Stock again, it's where I started my career. Bob Wink is a great guy with great equipment. I couldn't refuse his offer. I'm also in talks with Dennis Buss about driving his Street Stock a few times as well": a happy Frantz said.
The first race is scheduled for April 17th. That day Paul will be in the Factory Stock. April 24th is the first scheduled Modified race.