FRANTZ GETS BEST MODIFIED FINISH WITH SECOND CONSECUTIVE TOP 5
(9/8/2013)- Paul Frantz made his return to Mountain Speedway two weeks ago, and scored his career best finish in the Modified Division. That had him and his team optimistic for another good run this week. "I was totally blown away finishing fourth last time. I was able to get money for tires so we decided to come and try again", Paul said at the start of the day.
Paul finished third in his heat race, which led to a fifth place starting spot for the feature. At the drop of the green, Paul took the Associated Chiropractic/D. E. Cressman Ins. #10 and moved up the the third position. He stayed there until Matt Hirschman passed him on lap eight. Paul followed Hirschman trying to get to the leaders. On lap eleven, point leader Brian Defebo passed Paul for the fourth place. He followed Defebo and was able to get back to fourth by passing Amber Fortin. The race's first caution came on lap sixteen. On the restart, Amber Fortin re-took fourth from Paul. Two laps later, Paul took the spot back and started to chase down the front three. The caution waved again on lap twenty-four. Frantz drove around John Fortin, Jr. for third and was within a car length of second place Defebo. A couple more cautions waved at the end of the race, but Paul was not able to move up. At the checkered flag, Paul had his career best Modified finish finishing third.
Frantz ecstatically said afterward; "This is like a win for me. To finish third is great, especially behind to great champions like Matt (Hirschman) and Brian(Defebo). I really have to thank my sponsors that helped get the car here today. Associated Chiropractic, D E Cressman Ins., and Sour Apple Customs. Without their help, I wouldn't have had the funds to get tires. I owe a lot to them."

FRANTZ EARNS FIRST MODIFIED TOP 5 IN RETURN TO MOUNTAIN SPEEDWAY
(8/25/2013)- Paul Frantz and the Frantz Racing Team made their first trip back to Mountain Speedway since the beginning of June. It was also Paul's first race back since his injury three weeks ago. Paul decided to try and run with the Tour Type Modifieds in the 75 Lap race. "I shouldn't be running. I found out I have a broken bone in my wrist from the wreck at Mahoning. We'll see how it goes. I don't expect to win. We are going under horsepower and under funded, but I think we can hold our own. Besides, it's time to go "home". I had a lot of fun at Mahoning, but Mountain is my home"; Paul stated.
Practice didn't go as well as Paul hoped. The car was very loose in the first round of practice, and he was tenth quickest of the sixteen cars. Paul changed a tire and wound up sixth quick in the second practice session. "The car didn't feel that good. We'll put stickers on for time trials and see where we end up"; Paul said after practice.
Paul went out eleventh for time trials and ran a 13.948 second lap. That time was thirteenth quickest which is where he would start the race. Paul said afterward, "That's not quite what I hoped for. The tires didn't come up like I thought. I think we will be alright. I just want to ride for a while and save the tires for the end. I will be happy with a top ten against these guys."
Point leader Brian DeFebo had engine trouble in qualifying ending his day, so Paul started the Associated Chiropractic/Gilbert Funeral Home #10 from the twelfth position. At the drop of the green, Paul used the outside line and when the caution waved on lap two, he was up to the ninth position. He fell back to tenth on the restart, but slowly picked off cars. The race went green from lap two to lap thirty-nine. In that time, Paul raced his way up to the seventh spot. With the Cone Race set up, Paul chose to restart on the inside line. At lap forty-one, he was up to the fourth position. He ran there a few laps until Jason Hearne came charging up through the field after making a tire change. Hearne got by Paul, as well as Dan Speeney, dropping him back to the sixth position. Determined, Paul re-passed Speeney and was up to the fifth position once again. The final caution waved on lap fifty-two. Paul chose the outside lane this time for the restart moving himself up to the fourth position. Paul was able to get in front of Ken Vogel on the restart and remain in the fourth position. Vogel and Speeney tried hard over the final twenty-five laps to get by, but Paul was having none of that. When the checkered flag waved, Paul had earned his first ever top five in the Tour Type Modifieds of his career in just his fifth start.
"Awesome! This is like a win to me. We don't have near the motor of these guys. I can't thank everyone enough who helped make this happen tonight; Jake and Eric Nemeth, Jim Remaley, Todd Baer, Kevin Hoffman, all my sponsors and of course my Dad. This is great"; an excited Frantz said after the race.

FRANTZ HAS TOUGH NIGHT AND INJURY
(August 3, 2013)- Paul Frantz has been turning heads each week he has run at Mahoning Valley Speedway. It appeared this week would be no different.
Paul started fifth in his heat race and battled hard with defending track champion Earl Paules, Race of Champions winner Zane Zeiner, and more. At the finish, third through seventh were within a tenth of a second of each other. "That was fun! I ran with some of the best modified drivers around"; an excited Frantz said afterward.
Paul started the Associated Chiropractic/Gilbert Funeral Home #10 from the eighteenth position. He started passing cars heading toward the top ten. He narrowly missed a few accidents and found himself up to the twelfth spot. On the restart, he fell back a few spots running in the outside groove. While trying to make up some spots, Paul got out of shape entering turn three which caused him to lose more positions. Determined to get them back, he closed back up to the field and was about to make an outside move when trouble happened in front of him. Paul ran into the back of Terry Markovic hard with the left front wheel, causing a flat left front tire.
Paul headed pit side where the crew worked quickly to change the tire and survey the damage. Paul returned to the track, but could only ride around for the final five laps due to the damage. He wound up sixteenth.
Paul stated after the race;"I thought we were going to be good. The car wasn't as good as I hoped, but we weren't bad. I didn't see that last wreck happen, and I hit Terry a ton. It jammed my hand into the steering wheel. I'll have to go get it checked out."

FRANTZ JUST MISSES SECOND CONSECUTIVE TOP TEN
(July 14, 2013)- Paul Frantz and the Frantz Racing Team entered this weeks event at Mahoning Valley Speedway with moderate expectations. "I want to run with the field, pass some cars and go home in one piece", Paul said at the beginning of the day.
Paul started sixth in his heat race, and was anxious to see how the car would be after last minute changes thanks to help from Kevin Hoffman. Paul stayed with the field and while trying to pass for fifth, was forced to back out of the gas to avoid contact with another car. Unfortunately, he lost his momentum and fell a few car lengths behind. Determined to make it up, Paul drove hard and by the end of the heat he was challenging for fifth again only to come up a car length short. "I had a run on Eric(Kocher), but I don't think he saw me right away. I backed out so we wouldn't wreck. We'll make some changes for the feature. I think we'll be alright", Paul said after the heat race.
Paul started the Associated Chiropractic/Gilbert Funeral Home #10 from the eighteenth spot. He raced patiently at the start looking for a place to make some passes. About eight laps into the race, the handling started to go away. He could stay with the field, but just couldn't make any passes. A few cautions waved which had Paul up to the twelfth position. On the restart, he was victim to the dreaded "freight train" due to restarting on the outside. He fell back to the seventeenth spot. A few more cautions flew near the end of the race allowing Paul to move up to the eleventh position. Paul was able to stay there in a green, white, checkered finish.
Paul stated after the race:"I really thought we might have been able to go to the front. We had two new right side tires, but they both shrank, and the left rear grew. We lost over an inch of stagger. No wonder the car pushed so bad. I am pleased though. We're getting better and more competitive each time."
Sad news was delivered to all the racers before the night started. Track announcer, and friend to Paul, Dino Oberto lost his father earlier that day. "Our thoughts and prayers go out to Dino and his family. They are a great bunch of people. His dad will be missed by many", Paul stated.
FRANTZ EARNS FIRST MAHONING VALLEY TOP 10
(July 6, 2013)- Paul Frantz and the Frantz Racing Team headed back to Mahoning Valley Speedway this week with conservative expectations. "I just want to run with the field tonight. We made a few changes, so hopefully the car is better"; Paul said before the night started.
Paul chose to start seventeenth (last) in the feature after qualifying in his heat race. He rode a few car lengths from the back of the field in the Associated Chiropractic/MetLife #10 for the first twenty-four laps until the first caution waved. On the restart, he stayed with the field and tried passing cars. Another yellow waved a few laps later, Paul was now up to fifteenth. The final caution waved with two laps remaining. Paul was now up to the tenth position. He remained there over the final two laps to record his first top ten at the tricky quarter mile. It was only his second start in the modifieds, and seventh start at the track overall.
"I'm very happy. I exceeded my goal for tonight. The car was pretty good. We still have some work to do, but now we're getting in the ball park"; a very happy Frantz said after the race.
Special thanks goes out to Eric Beers for helping Paul with wheels, Chip Santee for tires, and of course Paul's dad Russ for all his hard work.
Frantz stated:"Now we need to get some new tires. That will be a big help. We're running well on Chip's(Santee) used tires, but now it's time to upgrade."

FRANTZ PLEASED WITH MAHONING VALLEY RUN
(June 16, 2013)- Paul Frantz and the Frantz Racing Team made the first trip to Mahoning Valley Speedway in five years. "The last time I raced here was 2008 in the Street Stocks, and that didn't go very well. Hopefully, this will be a better experience. I have wanted to come back with the modified. I am anxious to see what we can do"; Paul said before the night started.
Paul took advantage of the early practice offered to the racers. The car was off quite a bit at first, but with some encouragement and suggestions from Late Model driver Mike Sweeney, the Associated Chiropractic #10 got better each time it was on the track. After going out for two sessions, Paul had Sweeney drive the car for his input. "Mike and I raced Factory Stocks against each other at Mountain and have become good friends. I trust his opinions about the car, plus, he gets around Mahoning pretty well"; Paul said.
Paul started seventh in his heat race, and fell back from the field due to tire issues. He would finish there. Paul then started nineteenth in the feature. He missed a lap one crash in turns one and two, which saw many of the contenders knocked out of the race. When racing resumed, he tried to stay with the field, but was not very successful. He turned decent and consistent laps throughout the race, which did make the team happy. By the end of the race, Paul was one lap down. He did get a thirteenth place finish for his efforts.
Paul stated after the race:"We have work to do before we come back. I am pleased with the day though. The car was better each time it was on the track, and I think I was too. We need to get some different things for the car to make it better. I had fun tonight.
I really have to thank everyone at Mahoning Valley for welcoming me the way the did. They treated me like I have raced here forever. Also, a big thank you to Mike Sweeney. He really gave me a ton of help today. Thanks to Chip Santee and Don Wagner for the tires they gave me. That saved us a lot"; Paul commented.

FRANTZ ANNOUNCES TENTATIVE SCHEDULE CHANGE
(June 10, 2013)- The Frantz Racing Team has announced a schedule change for the 2013 season. The change comes after the June 2nd announcement that Mountain Speedway was eliminating the Sport Modified division.
The Frantz Racing Team has decided to start racing at Mahoning Valley Speedway in Lehighton, PA. "I always liked watching races at Mahoning, and I have wanted to take the modified there for a while. It just seems to fit for us right now"; Paul said.
The team will continue a limited schedule, likely racing every other week, much like they were at Mountain Speedway. Paul will also be running select Xcel 600 races for teammate Shaun Burd, as well as returning to Mountain Speedway for select shows. Paul also hopes to run at a few tracks in New York.
"I hope this change will benefit me as a driver. I feel the more places I run, the better I will get. We'll mostly be running at Mahoning Valley, but I hope Mountain will bring back the Sport Modified class so we can go back there. I would also like to try and run Shangri-La and possibly Chemung up in New York.
"I want to thank all the fans at Mountain who have supported me for most of my career, as well as the officiating staff for all the work they put in. I need to try somewhere else right now. I hope Mountain grows back into the speedway it was, and can be"; Paul stated.

FRANTZ SETTLES FOR THIRD AFTER LATE RACE ALTERCATION
(June 1, 2013)- Paul Frantz and the Frantz Racing Team, have been a consistent contender so far in the 2013 Mountain Speedway season. Saturday night looked as if the he was headed to victory lane, only to have late race contact, forcing him to a third place finish.
Paul started the Associated Chiropractic/Morgantini Race Engines #10 from the pole in the 30 lap feature. He jumped to the lead over Tom Wanick and Travis Fisher. Frantz led until the first caution, and on the restart, again jumped to the lead. He now led over Jason Hearne. Another caution waved a few laps later, allowing Hearne to line up beside Frantz. Paul was not giving up the lead. He pulled out to a five car length lead over second place Fisher. Another caution flew with three laps remaining. On the restart, Fisher got into the back of the #10 car in turns one and two, getting Frantz out of shape. Frantz tried to gather the car back up, but ultimately spun in turn three. Paul was forced to start at the back of the three cars remaining, and could not make any headway over the final three laps.
"I thought we had this one. We made a few changes. The car was a lot better. I didn't expect to get run over. It's sad. He did it in the heat race, too. He had the outside and just ran me over"; a very angry Frantz stated after the race.
Next up for Paul is scheduled June 21, where he will be making his dirt debut. The location is still uncertain as to if it will be Linda's Speedway or Penn Can Speedway.
"As of now, our next race is with Shaun Burd's Xcell 600 Modified. I am not sure when we will be back at Mountain. I am very disgusted with what has gone on. As of now, I am not going back on the 22nd of June. I wish to thank my sponsors for their support, and hope they will continue to stand with me as we make the tough decision as to where we are going to race next", Paul said in a statement.

FRANTZ SCORES FOURTH TOP FIVE FINISH
(May 19, 2013)- Paul Frantz, and the Frantz Racing Team, got yet another top five finish in the 2013 Mountain Speedway season. The team was hopeful of a win, but they are not about to give up.
Paul started the Associated Chiropractic/Morgantini Race Engines #10 in the third position. On lap two, he grabbed second spot from Cam Ayers. He then tried to real in leader Travis Fisher. A few laps later, two time champion Dave Brigati got a run under Frantz down the front stretch taking second position. Point leader Jason Hearne followed through for third, dropping Paul to fourth. A caution just prior to the halfway point brought the field back together. Paul tried to regain third from Hearne, but was unsuccessful. The last caution flew with five laps to go, again giving Paul a shot at the leaders. This time he restarted outside Brigati and as the field took the green, contact between the leaders caused everyone to check up. Paul remained fourth over the last five laps, recording his fourth top five in the four races this year.
"I thought we had something for them today. I found a problem with the car from last week and hoped we would be better. Something else is still a miss"; a dejected Frantz said after the race.

Frantz Off to Great Start at Mountain Speedway
By: Randy Kane (Morning Call)
(5/7/2013)- Second-generation driver Paul Frantz finished up in fourth place on Sunday afternoon at Mountain Speedway in St. John's, Luzerne County, which kept alive his streak of top-five finishes this season.
Aboard that self-owned Gilbert Funeral Home-backed No. 10 Sportsman/Modified, the 35-year-old driver has been one of the most consistent racers at the spacious, flat 1/3 -mile paved raceway with three top-five finished in three races. It has Frantz happy, thinking of those possibilities, down the road.
"The car has been really good," Frantz commented. "All we need is a little fine tuning and, who knows, we just might, finally, get a win and beat out some good competition, running as regulars at this track."
The resident of Scheidys started things off on opening day at Mountain with a strong third-place finish. Prior to that solid finish, Frantz suffered through a clutch problem, but quickly got that repaired. Next, Frantz fought an issue with a carburetor, but got that cleared up quickly, as well. After the redraw Frantz found some good luck, starting from second place in the feature event.
Frantz fell back to third place with the green, but battled it out throughout with the top two runners and, eventually settled for third place after he just got nipped at the line for a runner-up finish by .001 seconds in that 40-lap event.
"I guess I should be satisfied after all we had go wrong, plus the tires just didn't come up like I hoped. Overall, we'll take it," Frantz said, smiling.
Frantz entered the next race very optimistic after his successful start. With a heat-race victory, Frantz again started the main outside of Row 1. With the start, Frantz got a little out of shape and, early on, dropped back into fourth place. Eventually, Frantz worked his way back up to third place and, just like on opening day, he battled it out with the two cars just ahead of him for that top spot.
Halfway through, Frantz found his car getting a little loose, running through the center of the corners, and he couldn't drive it off the corner, as he expected. Frantz made numerous attempts to advance in the final circuits, but each effort was unsuccessful.
Frantz settled for a third-place finish, once more, in the exciting 40-lapper for the Sportsman/Modified campaigners.
"I came away very pleased with another top-three finish," Frantz said. "It was a good day, overall, but we could have had better. It all has everyone pretty optimistic, now, looking at our results, so far."
Frantz is also locked into a fight in the season-long standings at Mountain and is, without a doubt, a serious championship contender despite his limited-budget racing team.
Frantz, a married father of two children, works as a mechanical helper with the Parkland School District. He is more than ready to improve on things and, perhaps, finish first one of these weeks.
"We have been making progress," Frantz said. "Eventually, we'll beat out those guys. It's sure been some tough competition, but I am convinced."
ON THE THROTTLE
At Mountain Speedway on Sunday afternoon, Jason Hearne took his second main event victory this season in the Sportsman/Modified 40-lapper, while a win in the Late Model feature went out to Kyle Harvell. Matt Mattern Jr. took his second Factory Stock triumph of the 2013 season and the INEX Legends saw Brendon Bock capture his first win of the year. Andrew Morin was the winner in the INEX Bandoleros.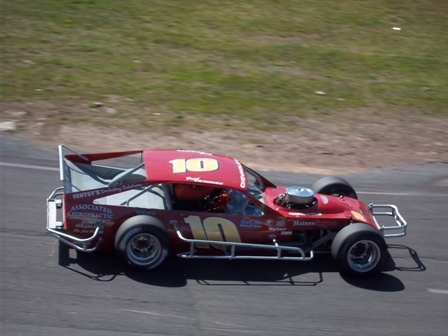 FRANTZ GETS THIRD STRAIGHT TOP FIVE FINISH
(5/5/2013)- Paul Frantz has started the 2013 very competitively. Finishing third in the first two races, he entered this weeks race optimistic about getting his first win of the season. "The car has been really good. We just need a little bit of tuning to win a race"; Paul said at the start of the day.
Paul started the Associated Chiropractic/D.E Cressman #10 from the sixth position. He tried to pace himself at the start, and by lap ten, he was up to the fourth position. Unfortunately, the top three had driven away so Paul tried to real them in. The car wasn't handling to his liking which did not allow Paul to catch the leaders. During a caution on lap 28, Frantz headed to the pits for an adjustment. He restarted seventh and quickly worked his way back to fourth. Another caution flew with just a few laps remaining, and Paul thought he had a shot at the leaders, but had to settle for fourth.
"The car just wouldn't go into the corners. I made a change during the week that I thought would help the car. It did the total opposite. We're lucky to get a fourth"; a dejected Frantz said after the race.

FRANTZ GETS ANOTHER THIRD PLACE FINISH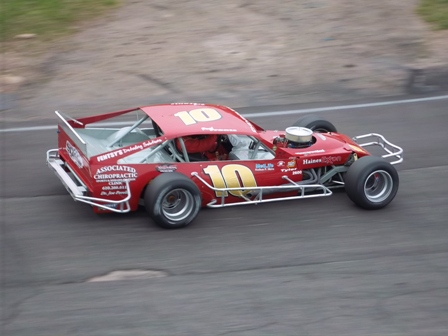 (4/28/2013)- For the second straight race, Paul Frantz finished third in Mountain Speedway's Sport Modified division. He also got his first career top ten in the Modified division.
Paul entered the day's events very optimistic after the great run on opening day. "The car was pretty good last time. I hope with the tire change we will do better", Frantz stated.
Paul won his heat race with the Sport Modified, earning him the outside pole starting spot in the feature. At the drop of the green, he raced along side pole sitter Travis Fisher. Exiting turn two, Paul got a little out of shape allowing Dave Brigati and Jason Hearne to go by. Frantz followed Brigati and Hearne past Fisher on lap eight, and just like opening day, the top three raced hard for the win. After a late caution, Brigati pulled away from Hearne and Frantz. Paul tried numerous times to pass Hearne in the final laps, but was unsuccessful. He had to settle for third again in the Associated Chiropractic/MetLife #10. "The car started tight, then about halfway it got loose right in the center so I couldn't drive off like I needed. We are making progress. We'll beat these guys yet", Paul said after the race.
The Tour Type Modifieds were also in action, so Paul decided to run with them as well. In doing so, he earned his first career top ten in that division. He started tenth, and held his own for a while until the tires started giving up. "I had really used lefts on the car. I have to thank Todd Baer for giving me his right sides from last week. That helped a lot. I'm very happy with a top ten. I just wanted to get laps in. It was a good day", Paul stated.

FRANTZ STARTS SEASON WITH STRONG THIRD PLACE FINISH


(4/14/2013)- Paul Frantz and the Frantz Racing Team entered this weeks opener at Mountain Speedway with high hopes. After his best season in the Sport Modifieds in 2012, the team plans to be a contender in 2013.
Paul practiced fastest of the cars during Saturday's warm-up sessions despite mechanical problems. He would go out last for time trials and qualified third fastest. "I was hoping for a better time than that. The stickers (tires) didn't come up like I hoped. After what we went through today, I am happy with it.
"We had a clutch problem in the first practice, fixed that, then the carburetor broke in the second practice. So, I guess I should be satisfied"; Frantz said.
The top four qualifiers re-drew for starting positions. Paul picked second. At the drop of the green, Paul fell back to third in the Associated Chiropractic/S & D Bodyline #10. He ran there behind leader Jason Hearne and defending champion Dave Brigati. Paul tried to go underneath Brigati a couple of times, and then tried the outside with no luck. A caution flew with seven laps left. Paul chose to go to the outside lane on the restart, nearly taking the lead away from Hearne. In the final laps, Hearne held off the challenge for the victory while Brigati nipped Frantz at the line for second by .001 seconds.
Frantz stated:" I thought we had the win. The car just got too tight after that last restart. I thought I had Dave(Brigati) for second, but third is a good run. We were contending all race. I just wish we could get more cars. I think we put on a show for the fans"

FRANTZ WELCOMES NEW SPONSORS; ANNOUNCES TENTATIVE SCHEDULE
(3/21/2013)- The Frantz Racing Team would like to welcome a couple of new sponsors for the 2013 season, Gilbert Funeral Home of Whitehall, PA, and Kimball Midwest representative Brian Jodin. "I was delivering heating oil one day with one of my crew guys and he said the Gilbert's are race fans. So I thought I would see if they were interested in sponsorship. They graciously accepted and we are happy to have them". Also, the team is receiving some help from Kimball Midwest. "We do a decent amount of business with the company at Parkland. Brian, the sales rep, offered to supply us with some paint. It's not a million dollars, but anything anybody will donate, is money we don't have to spend, we are very appreciative", Frantz stated.
The team also announced a tentative schedule. The main focus will be the Sport Modified season at Mountain Speedway. Some Tour Type Modified shows, and a start or two at Mahoning Valley Speedway are also a possibility. Paul is also scheduled to run a few Xcel Modified races for friend and sponsor Shaun Burd.
"I love the Sport Mod. It's a great class with great competition and competitors. We're going to try and run the full schedule with that, and may make a few starts with the Tour Type Mods, just to play around. I would like to take the car to Mahoning for a race or two. I am determined to figure that place out", Paul said.
New this year will be Paul's first attempt at dirt racing. He is going to run a limited schedule in an Xcel 600 Modified. Paul commented; "Shaun (Burd) bought a car last year, and he had a blast with it. He told me he wants me to run a few shows for him. Right now it looks like we are going to do Linda's in April, Penn Can in June, and one other in July. I can't wait. I've always wanted to try dirt."
With the season approaching, the team is finishing the car and getting anxious to hit the track. The first race is April 14th at Mountain Speedway. Racing begins at 2:00 pm.