FRANTZ TO CALL MAHONING VALLEY SPEEDWAY HOME FOR 2015
(2/17/2015)- Paul Frantz has called Evergreen Raceway his home for his fifteen year career. 2015 will see that change. With the closing of Evergreen Raceway, Paul and the Frantz Racing Team have chosen to race closer to their Scheidys, PA home and call Mahoning Valley Speedway home for this season.
"I will miss racing at Evergreen, but I'm looking forward to the change. I like racing at Mahoning. It's a fun little track. Floyd Santee and his staff put out a tremendous product for the fans, and do a lot to help the racers too"; Frantz said.
The team is freshening up the car and looking to acquire more sponsorship. "We have our current sponsors returning, but we are also in negotiations with a few new sponsors. We are looking into running a Race of Champions race or two if the funds come available"; an excited Frantz said.
Paul has one career top ten at Mahoning in just six career modified starts. He has also made two Street Stock and one Late Model starts. Opening Day is scheduled for April 11. On tap will be a 125 Lap $5,000 to win Modified race, Late Models, Street Stocks, Dirt Modifieds, Pro 4's, and Hobby Stocks.
FRANTZ ENDS SEASON WITH THIRTEENTH PLACE FINISH IN LATE MODEL DEBUT
(10/25/2014)- Paul Frantz has been waiting for more than two months to get his Late Model debut. After two rain-outs, Paul finally made his first Late Model start at Mahoning Valley Speedway in this past Saturday night's
Ocoberfast
race. "I've been anxious for this to happen. I can't thank my sponsors for stepping up to make this happen. Associated Chiropractic, Haines Exxon, D. E. Cressman Insurance Agency, and Dave and Lori Loch, bought the tires for this race"; a grateful Frantz said.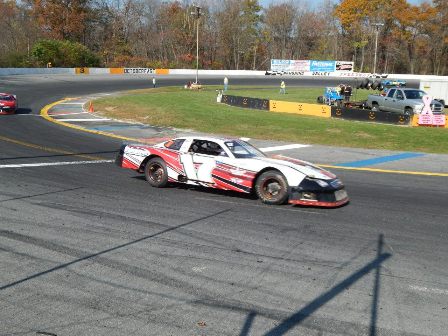 The day started off with the car being very loose in practice. Paul and his crew chief Joe Berrocal made a change in hopes to tighten the car for the heat race. Paul started outside row one for the heat race. He stayed along side pole sitter Jacob Kerstetter for the opening lap and a half. Unfortunately, he fell back to fifth spot by the race's halfway point and finished there due to the car being too tight. Paul said afterward, "Well, the good thing is the car reacted to the change. The bad thing is, it was just too tight now."
Paul was scheduled to start fourteenth in the feature, but chose to scratch to the back and instead started seventeenth in the eighteen car field. At the drop of the green, Danielle Paules got turned around causing a complete restart. Paul was now sixteenth and hoping to move toward the front. The caution waved again a few laps in, and Paul headed pit side for an air pressure change. He restarted eighteenth, and was following the field when a hard accident in turns one and two brought out the caution again. Paul again headed pit side for another air pressure adjustment. He would restart fourteenth. Finally, the car was handling well, and Paul was able to run some decent laps. While running in the top ten with two laps to go, Paul was forced to take the Oswald Racing 17W off the track due to an overflow hose rupturing causing the water to push out of the engine and onto the racing surface. He was credited with a thirteenth place finish.
"That's disappointing"; Paul said. "We didn't have a winning car, but we made it a competitive car. I can't thank all my sponsors for their help. A big thanks to Joe Berrocal, from Sour Apple Auto ,for being my crew chief, and for all his hard work the last ten days on this car. He was a huge help. Thanks also to Nemeth Motorsports for lending me their trailer to get the car here."

FRANTZ SETTLES FOR SIXTEENTH PLACE FINISH
(8/31/14)- Paul Frantz and the Frantz Racing Team were back in action this weekend at Mahoning Valley Speedway. It was the first time since July 11 that the team was competing. "I was getting the itch to get back in the car, plus I owe it to my sponsors to have the car on a track": Paul said.
Twenty-four modifieds were on hand to make an attempt at the twenty car field. Paul started eighth, which was last, in his heat race. Fighting the car, Paul spun out just past the halfway point, and at the finish was seventh after a few cars made contact coming to the checkered flag. This meant he had to run the consolation race to try to get in the feature event. Paul would start fourth, and at the drop of the green he tucked in line and held fourth until last race winner Lou Strohl made pass on him. Luckily, Paul was able to stay there and finish fifth, giving him the last starting spot for the feature event. After the consolation, Paul said:"We're in the show! The change we made between the heat and consi really helped the car. Now just to stay out of trouble in the feature."
The Stooges Bar and Grill/Associated Chiropractic #10 started last and by lap two, Paul was up to eighteenth. He rode there until a lap nineteen accident took out a few cars. A few more cautions waved over the last sixteen laps, but Paul was unable to make any head way. When the checkered flag waved he finished in the sixteenth position.
After the race Paul stated:"We accomplished what we wanted tonight. Make the show, stay out of trouble and have some fun. I have to thank Todd Baer and Kevin Hoffman, as well as race winner Don Wagner for giving us tires to run tonight."
FRANTZ TO MAKE LATE MODEL DEBUT AT MAHONING VALLEY SPEEDWAY
(8/17/14)- Paul Frantz has been anxious to get back behind the wheel of a racecar since the unexpected closing of Evergreen Raceway Park last month. This coming Saturday, he will make his Late Model debut at Mahoning Valley Speedway in the Oswald Racing #17.
"I've been looking for a chance to drive anything anywhere. My cousin, Josh Oswald, asked me if I wanted to drive his car. I told him sure. I've been in a Late Model once, for eight laps in a mechanics race, back in 2012": Frantz said.
This marks the first time Paul will be back in a car at Mahoning since he broke his wrist there last August. "I like the track. It's challenging and fun. I'm hoping for a better result than last time"; a smiling Frantz stated.
Josh Oswald had been racing since 2004 and is in his second year with the Late Model. He has been on a limited schedule to do sponsorship and his work schedule. Paul said:"Josh has greatly improved himself in this car since the first time he drove it. Maybe with me driving it, we can find something that will help us both."
The opportunity has Frantz excited. "I'm always wanted to race a Late Model. It will be a tough challenge. Some of the best cars and drivers in Pennsylvania race at Mahoning Valley. There's Paul Kohler, Frankie Althouse, Mike Sweeney, and of course, Earl Paules. We'll have our work cut out for us. We are under horse powered, and under funded, but we are going to give it our best shot. We're hoping to find some sponsorship to help get us a couple new tires as well"; Paul said.
FRANTZ WEIGHING OPTIONS AFTER EVERGREEN RACEWAY CLOSES
(7/23/14)- Paul Frantz and the Frantz Racing Team were preparing the #10 Stooges Grill/Associated Chiropractic modified for this Friday's races. Unfortunately, Evergreen Raceway Park has shut down until further notice. "This really stinks. Nobody can give us an answer as to what happened. I didn't expect to have this happen": a dejected Frantz said.
"We found some things with the car and made a lot of changes. I think the car was going to be a lot better": Paul said.
The team is looking at some options as where and when to race. " I can't thank my sponsors enough for all the support they have given me this year. I hope they all will continue to support us as we weigh our options. We may try some Race of Champions Series races, Mahoning Valley is an option, but I am really hoping Evergreen re-opens. That's home to me. The track is great, and the fans that come out are fun to talk to": Paul stated.
For now, the team is going over the car with a "fine tooth comb". The hopes are to be racing again soon. Paul has had a couple offers he is looking into. One he will take advantage of is racing good friend Shaun Burd's Xcel 600 Modified at Penn Cann Speedway. The date isn't set as of yet, but it should be in a few weeks.
FRANTZ HOLDS ON FOR ANOTHER TOP FIVE
(7/11/14)- The Frantz Racing Team has been trying to find victory lane. A little change has been made each week to try to improve the car. This week was no different. "We made a small chassis change to hopefully make the car better through the corners": Paul said before the night's activities began.
Paul, who was second fastest in the practice session, started from the pole for the heat race. Outside pole sitter Jerry Hildebrand got the jump at the start and led the entire ten lap race. Paul was able to fend off two time winner Austin Kochenash and finish second.
Paul would start the Stooges Grill/S & D Bodyline #10 from the pole. At the drop of the green, Paul took the lead, and looked to be the car to beat. He pulled out to a five car length lead over the field. By lap eleven, second place Jerry Hildebrand and third place Brian Defebo were closing in. Paul tried to fend them off, but Defebo powered by on the outside on lap thirteen. Two laps later, Hildebrand got a run on the outside. The two touched on the back stretch getting Frantz a bit out of shape. Paul held on, but lost third to Austin Kochenash. The lone caution waved on lap seventeen for point leader Todd Baer who spun out of turn two.
Paul held fourth on the restart, trying to stay with the leaders. With ten laps to go, Brian Sones was making his presence noticed as he started to challenge Frantz. The two raced hard, and with five laps to go, Sones made the pass for fourth. At the checkered, Paul had his fifth top five finish of the year.
Paul said after the race;"I thought we had it tonight. The car was great for the first ten laps, then it got a little tight going in the corners. It wasn't a lot, but just off enough I couldn't hold them off."

FRANTZ SCORES FOURTH PLACE FINISH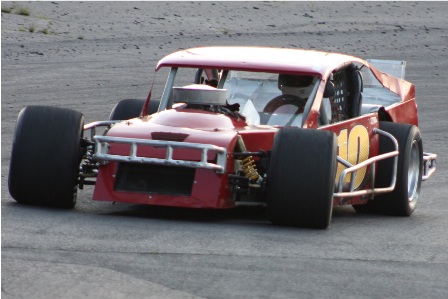 (6/27/14)- Paul Frantz and the Frantz Racing Team were poised to turn things around after a tough week at Evergreen Raceway Park. "We put last week behind us and are moving forward. Hopefully things will go better tonight"; Paul mentioned.
The Stooges Bar and Grill/Himmer Graphics #10 started on the pole for the thirty-five lap feature. At the drop of the green flag, the car went sideways. Second place starter Jerry Hildebrand took the lead, then was followed by Brian DeFebo. Two laps later, point leader Todd Baer got by Frantz for third. While still fighting the car, Paul fell back to fifth. The caution flew on lap ten when former modified champion Bobby Jones spun in turns three and four. On the restart, second place Hildebrand and third place Baer, got together entering turn one. As they went up the track, Paul took advantage of the situation. He moved from fifth up to third and nearly got by Hildebrand for second. Paul held third for a few laps until Baer got back by on lap fifteen. Two time feature winner Austin Kochenash tried several times to pass Frantz over the last twenty-five caution free laps, but was unsuccessful. At the race's end, Paul had earned a fourth place finish.
Paul stated after the race:"I don't know what happened on the start. The car just went sideways, and it took a few laps to really get control of it. Fourth isn't what we wanted, but it's a good run. We held of Kochenash. That's a feat in itself."
DISAPPOINTING NIGHT FOR FRANTZ
(6/22/14)- The second week of Friday night racing at Evergreen Raceway Park had a lot of people excited. Paul Frantz and the Frantz Racing Team were no different. "I like the Friday night racing. It's a nice way to end the work week, and allows me to do whatever I want for the rest of the weekend"; Paul said before the night started.
After finishing third in the heat race, Paul started the Stooges Bar and Grill/D.E. Cressman Ins. Agency #10 from the second position. At the drop of the green, Paul took the lead from pole sitter Jim Bojohnny. The caution waved when officials deemed Paul jumped the start. On the second attempt, Bojohnny took the lead, but Frantz stayed on his outside. The two ran side by side for the first three laps until fourth place starting Todd Baer got underneath Paul for second. Paul fell in line behind Baer, and held third until lap eight when he was passed by Austin Kochenash. Two laps later the caution flew when Baer spun from second spot.
Frantz ran third after the green flew again, looking for a way to get to the lead. Kochenash got by Bojohnny and started distancing himself from the field. Paul got to Bojohnny's bumper and looked for a way by. He got a run under Bojohnny, but couldn't complete the pass. He fell back a few car lengths, but made them back and tried again unsuccessfully. Lap twenty -six was a race changing moment. While racing for second, fourth place running Jerry Hildebrand got into the left rear of Frantz sending him for a spin. Officials put both cars to the rear of the field.
On the insuing restart, seventh place runner Matt Higgins got turned out of shape. While trying to gather his car, Higgins came up the track and into Paul's left front wheel. During the caution, Paul went pit-side to have the car checked for damage. The crew, seeing little damage, sent Paul back on the track. He restarted eighth and moved up to seventh on the restart, and tried numerous times over the last six laps to move by sixth place Brian Sones, but was unsuccessful due to the front end damage.
An angry Frantz stated after the race:"That's just wrong. He's(Hildebrand)been racing like that for twenty-five years. That was totally uncalled for. He just flat drove into the left rear because he couldn't pass me. I gave him room, but he never was along side me to have position. We had a second place car tonight! Maybe even a winning car. Now look where we both are in the back with bent cars. He's (Hildebrand) torn up even worse because of his stupidity.

FRANTZ SETTLES FOR FOURTH PLACE FINISH
(6/6//14)- Coming off his career best finish in the Modified division at Evergreen Raceway Park, Paul Frantz and the Frantz Racing Team were optimistic for another good run and possibly a win. " I'm really pumped for tonight. I think we have a shot at the win. We made a small set-up change that I think will make the car even better"; Frantz said before the evening started.
The Stooges Bar and Grill/Met Life #10 started on the pole for the thirty-five lap feature. At the drop of the green, outside pole sitter Jerry Hildebrand took the lead. Two laps later, Todd Baer made the pass on Frantz for second. While attempting to re-take second from Baer, Paul had to check up to avoid running into him. Unfortunately, fourth place Dave Brigati couldn't check up in time. He got into the rear of Frantz, causing him to spin in turn four. Frantz headed pit side to have the car looked at. The crew made repairs and sent Paul back on track. Paul quickly moved back up to fourth after the restart and set his sights on the top three. He closed in, and the top four ran nose to tail. Paul tried to make a move on Baer for third, but got out of shape and lost some ground. Determined, Paul closed back up to the top three again, and with ten laps to go, passed Baer for third. Baer got a run on the outside with five laps to go and they ran side by side. Ultimately, Baer got by and Frantz had to settle for fourth place.
A dejected Frantz said:"I knew it would take a few laps for the tires to come in, so I wasn't too worried about giving up those spots at the start. I had a run back under Todd (Baer) and I think he got a bit loose. I had to check up. Dave (Brigati) couldn't. I guess I can be happy the way the car ran after that. We chased down the leaders, just couldn't find the way by."
The car suffered some cosmetic damage. Hopes are that is all. The team will make repairs and head back again this Friday.

FRANTZ SCORES MODIFIED BEST SECOND PLACE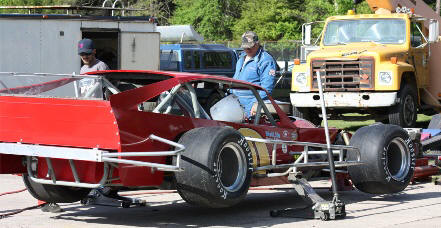 (5/31/14)- Paul Frantz and the Frantz Racing Team were poised for action on the first Saturday night of racing at Evergreen Raceway Park. After finishing sixth the week previous, Paul's dad Russ made a few changes to the car to improve the handling. "Dad made a few changes and found a couple things he didn't like. We're hoping the car will be better"; Paul said before the racing started.
Paul started the Stooges Bar and Grill/Sour Apple Auto #10 from the third spot for the feature. At the drop of the green, outside pole sitter Todd Baer took the lead from pole sitter Jim Bojohnny. Frantz moved to second at the completion of lap three, but was nearly a full straight-away behind Baer. Frantz gained a little each lap, and just past the halfway point was within a few car lengths of Baer. On lap twenty-five, Baer got out of shape exiting turn two allowing Paul to close right up to Baer's rear bumper. Paul stayed with Baer looking for a way by. Frantz trying to win for the first time in a modified over drove turn one with six laps reaming, and fell back a few car lengths. When the checkered flag waved in the caution free thirty-five lap race, Paul had closed to within in three car lengths and earned his best career modified finish of second.
Paul stated after the race:"The car got a little tight in and a little loose off. I thought I had something for Todd(Baer). I just over drove the first turn trying to get a run on him. I can't complain though. The car is getting better each time. If I have to finish second, I don't mind finishing second to Todd. He and Kevin(Hoffman) help me out a lot. The way I look at it I finished second to my teammate."
The management at Evergreen Raceway has decided to make a schedule change starting this week. Racing will be Friday nights for the next two weeks in hopes of a higher car count and fan base. "I really hope it works. This is home to me. I've been coming here for the last twenty-six years"; Frantz said at the conclusion of the evening.

FRANTZ SETTLES FOR SEVENTH PLACE FINISH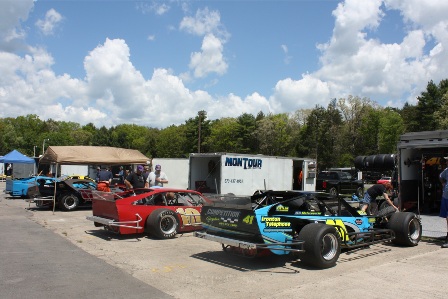 (5/25/14)- Round one of the Evergreen Raceway Park Poker Series was the main event for this weekend's modified division. 75 laps was the distance, and eighteen cars came to take a shot at winning the $3,000 race.
After finishing second in his heat race, Paul Frantz started the Stooges Bar and Grill/Associated Chiropractic #10 from the fifth position. Paul didn't get a great start allowing fourth place starter Matt Hirschman to move in front of him. Heading into turn three, sixth place starter Todd Baer got a run on the outside of Frantz and took away the fifth spot. The yellow flag waved on lap four where Paul found himself sixth. On the restart, he fell in line behind Baer and rode in the sixth spot for the next twenty-five laps.
Ken Vogel got a run under Paul and in doing so brought a few more cars with him. Paul got back in line in ninth position. Another caution came out on lap thirty-four. Paul made some passes on the restart and worked his way back up to seventh when the caution waved again on lap forty-four. He ran in seventh until lap fifty-two when Brian Sones and Brian DeFebo came charging from the rear of the field. Shortly after the pass, Sones suffered engine trouble ending his bid for a second consecutive win.
Fighting an ill handling car, Paul was determined to get back to the top five. He slowly made gains and was back up to sixth with ten laps remaining. While on the outside of Vogel for fifth, the two touched wheels causing Vogel to go over Paul's left front wheel and both cars went spinning. Paul was forced to head pit-side with a flat tire. The crew made the change and sent him back out. Paul restarted tenth, but was only able to make it back up to seventh at the checkered flag.
"The car was really good at the beginning of the race. I just wanted to ride behind Todd (Baer) and Matt(Hirschman). The car got a bit loose during that long green run we had, but I wasn't too concerned. I really thought we had a top five car. That wreck with Ken(Vogel) hurt. It knocked the toe out and hurt the handling more. It was just hard racing"; Frantz said after the race.

FRANTZ GETS TOP FIVE IN FIRST START OF THE SEASON
(5/14/14)- Paul Frantz and the Frantz Racing Team made their first start of the 2014 Evergreen Raceway Park season, and turned it into a top five finish. "We had to wait for the motor to get finished, so we missed the first two weeks. It's great to be back on track. I have to thank my Dad Russ for all his hard work Friday night. I also want to welcome two new sponsors. Sour Apple Customs in Coplay, and Stooges Bar and Grill in Allentown. They have been a big help already", Paul said at the start of the day.
Paul started the Stooges Bar and Grill/Sour Apple #10 in the seventh position for the 35 lap feature event. At the drop of the green, he stayed in seventh waiting for an opportunity to advance toward the front. Ten laps in, he made a pass on Pat Verwys and moved to sixth. He then set his sights on the top five. He slowly gained on them, and just past the half way mark he passed fifth place Donny Hartzell. He tried to catch the leaders, but was unable. At the checkered flag, Paul finished up fifth.
"We made changes to the car. It was better getting in the corner, but not as good as I hoped coming off. We'll fine tune for next week. I have to learn how to drive the car with more horsepower than I've had before. We'll get there", Paul said after the feature.

PAUL FRANTZ TO MOVE UP TO MODIFIEDS AT EVERGREEN RACEWAY PARK
(3/13/2014)- After running the Sport Modified division for the last five seasons, Paul Frantz is making the move to the "Tour Type" Modifieds for the 2014 Evergreen Raceway Park season. An excited Frantz said,"It's been a dream of mine since Dad(Russ Frantz) first raced at Evergreen, back in 1988, to race and win in a Modified there. He won a lot of Modified races and a few championships there. Now I have that chance."
Paul ran with the Modifieds at Mahoning Valley Speedway for most of the summer, after the Sport Modifieds were removed from the Mountain schedule. Paul stated:"We ran ok at Mahoning. We were a tenth to twelfth place car. Chip Santee gave us his one race old tires each week, and we got a set from Roger Coss as well. That helped a lot, but I think we could have done better if we could have bought new tires."
Paul wanted to go back and run at Mountain, and with the help of an unnamed sponsor and heavy persuasion from his Dad, the team received funding for tires to run the 75 Lap Modified race. After qualifying thirteenth, Paul drove his way to a fourth place finish. "We ran very well in the last two races we entered at Evergreen(formerly Mountain Speedway) last year. We got fourth in the 75 Lap race, which to be honest, I never expected, and followed that up with a third the next race"; Frantz said.
"New management is taking the track(Evergreen) over. I like what I am hearing from them. They raised the Modified purse, but cut the Sport Mod purse. That's what made the decision easier to move up. Dad has some heads that I think will work, and we can be more competitive than just having a Street Stock motor"; Paul said.
The team is seeking additional sponsorship to run the entire season. The plan is to race at Evergreen Raceway Park and make a run for "Rookie of the Year" and possibly make a start at Mahoning for the OctoberFast race in October. Paul is also working with Shaun Burd to race his Xcel 600 Modified a few times at Penn Cann Speedway.